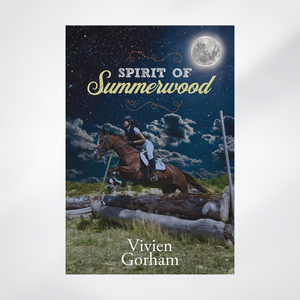 Spirit of Summerwood by Vivien Gorham
Regular price
$13.00
$0.00
A stand-alone follow-up to the award-winning middle-grade novel Touch of Gold, set at a horse camp with a mysterious past.

It's finally summer, and for 12-yr-old Aislinn, that means two uninterrupted weeks at her favourite place in the world — Summerwood Farm. At Summerwood's all-girl horse camp, Aislinn is surrounded by all the things she loves most: her Arabian, Firefly; her best friend, Jill; and her mentor, Grace.
But this year, things are different from day one.

There's a boy at camp, Grace seems tense, and rumours swirl about the stable's land being sold. Not to mention, Aislinn keeps seeing things no one else can — a fox, an owl, and even a ghostly boy who seems to need her help — and her visions are starting to affect her riding and her friendships.
So one starry night, Aislinn sneaks out to meet the ghost boy and hear his story. She also learns about the Indigenous history of the land around Summerwood, and what life was like for residents of a former Poor Farm that was in the same area. But, as Aislinn soon finds out, all actions have consequences and she faces serious punishment for breaking Summerwood's rules.

With stumbles and false starts, we follow Aislinn as she strives to become an environmental activist, an Indigenous ally, and a better friend. We see her make mistakes, learn, grow, and change. A true coming-of-age story with elements of magical realism and authentic equestrian themes, Spirit of Summerwood is destined to become a summertime favourite.
Author Vivien Gorham has been writing stories and riding horses since she was eight years old. Raised in Minnesota, she has worked in the Northwest Territories, Alaska's Denali National Park, and on a dude ranch in Montana. She now lives in Dartmouth, NS, with her family, two fluffy cats, and a dog called Niska. Her favourite horse book is The Horsemasters (1957).
**
Author: Vivien Gorham
Publisher: Nimbus Publishing
Format: Paperback 7.75 x 5.25"
---
More from this collection