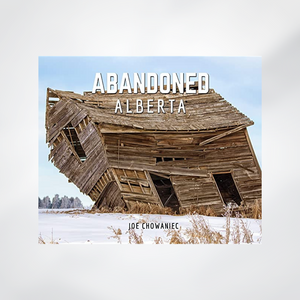 Abandoned Alberta by Joe Chowaniec
Regular price
$23.00
$0.00
A love letter to the province offering a window into the past through stunning photography.

The images found in Abandoned Alberta offer a window into our past, showing life as it was then, and stirring in us the emotions of wonder and curiosity about those who have gone before us and the lives they lived.
Joe Chowaniec's passion is Alberta and abandoned buildings. His Facebook page Abandoned Alberta has almost 50,000 followers. He lives in Edmonton with his wife, Rami.
REVIEW
"Thoughtful and evocative. Joe Chowaniec understands the hidden beauty in dereliction and decay." —Timothy Allen, BBC Photographer, The Human Planet

**
Author: Joe Chowaniec (Photographer)
Publisher: MacIntyre Purcell Publishing Inc.
Format: Hardcover 9.25 x 11"
---
More from this collection