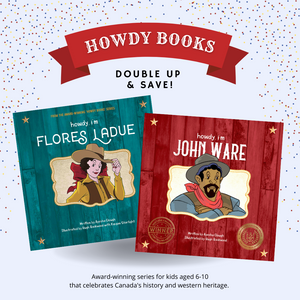 Howdy Books: Two-book series
Regular price
$23.00
Sale price
$28.00
SAVE BIG when you buy both books in the award-winning Howdy Books series about Canada's western pioneers. The stories, ideal for ages 6-10, bring the real-life legends to a new generation of kids.

You'll get Howdy, I'm Flores LaDue an illustrated children's book about Canada's little-known rodeo queen Flores LaDue (1883-1951). A world champion trick roper and First Lady of the Calgary Stampede, Flores helped put Western Canada on the world map. 
Plus you'll get Howdy, I'm John Ware a children's book about Canada's legendary Black cowboy. Despite experiencing enslavement, war and discrimination, this gifted horseman blazed a trail of kindness, becoming one of Alberta's most loved and respected pioneer ranchers. Won 'Children's Book of the Year' in the Alberta Book Publishing Awards, and the Heritage Calgary Storytelling Award, both in 2021.
Download the free Activity Kit!
Both books feature 36 pages of full-colour illustrations by Hugh Rookwood that kids love. They also include a timeline, archive photos, author notes and more. The stories will inspire kids to work hard, blaze their own trails, and rope the life of their dreams.

The Howdy Books team L-R: Illustrator Hugh Rookwood, designer Lia Golemba, Indigenous artist Keegan Starlight, author Ayesha Clough and animator Steve Gervais.
---
More from this collection